About Us
Testing Services serves University of Alabama students, faculty, staff and the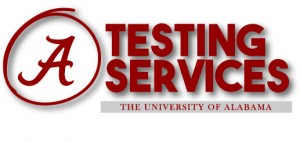 surrounding community with test administration and test scoring and reporting.
Testing Services administers both undergraduate and graduate admissions tests, CLEP, career certification tests, UA Placement exams and other tests by special request from individuals or agencies.
Our testing facilities will almost double in capacity. We will have 5 computer labs varying in capacity. If needed, access to other labs/classrooms by appointment.
Scanning Services: Forms design, development, and printing services are also available through SCANTRON for those who use our scanning services. Please call our office for more information.
Please note that testing seats for all exams are limited; therefore, seats are available on a first come, first served basis through registration.
Government issued photo identification is required for admission to all tests. Please check with your specific test for further identification requirements.
Cell phones are not allowed at the test center and for most other tests we administer. You should follow the rules established for your individual test.
Our Mission
To advance the mission of The University of Alabama by providing high quality testing services for students, graduates, professionals and individuals from our surrounding communities while adhering to the professional standards and guidelines established by the National College Testing Association.
Let us service you in reaching the capstone of your assessment needs!